This version of the new D7 Inflation/Deflation Valve is designed with a fine
mesh screen in the Backing Nut. This screen helps prevent stray fibers from the
drop stitch material from getting into the diaphragm of the valve and causing
leaks. This special D7 Valve also features a much more robust diaphragm to
withstand the higher pressures that are present in inflatable Stand Up Paddle
Boards and the like that are constructed out of the drop stitch fabric. Acetal (POM) plastic parts give high strength with chemical, ozone and shock resistance. Suitable for working pressure of 20+ psi. Please see below for additional info.

Leafield D7 Tooling and Accessories
D7-Valve-Service-Advice-Rev-01
D7 Installation and Service Instructions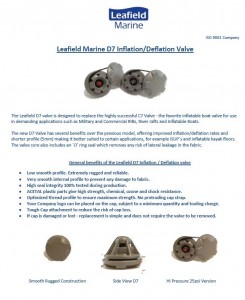 Click Here for D7 Installation and Drawings